About Us

The LEAD Marketing Conference is produced and hosted by the Shopper Technology Institute and CPGmatters.

CPGmatters is the only on-line publication covering the sales and marketing of consumer packaged goods (CPG) through retail. We define CPG broadly as food, beverage, general merchandise, and health and beauty care.

Now in its thirteenth year of publication, CPGmatters is international in scope with a subscriber base of over 16,000 manufacturers, retailiers, and other industry professionals.  Twice-a-month, it reports on in-store marketing, digital solutions, category management, loyalty marketing, trade promotion management, couponing, product trends, shopper marketing and other topics. No other trade publication in the CPG industry delivers a similar assortment of information in each issue.

Featuring original reporting that can be found nowhere else, CPGmatters is written by experienced professionals who have each worked for decades for trade publications and who have each authored several business books. No other trade publication in the CPG industry has a similar group of talent on staff.   

For More Information, Contact us at...

SHOPPER TECHNOLOGY INSTITUTE

P.O. Box 470751

Cleveland, OH 44147-0751

phone: 216-533-5337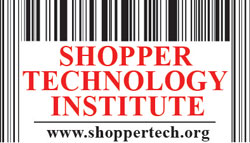 The Shopper Technology Institute, the industry's only trade organization focused on technologies and solutions that engage and motivate shoppers, analyze their behavior, and enable trading partners to improve their operations.

The primary members are solution providers in the areas of loyalty, engagement, analytics and digital applications, as well as providers of research and insights.The associate members are manufacturers, retailers, wholesalers, and academics.

The Institute aims to create awareness of established and emerging shopper technologies and practices for retailers, wholesalers and manufacturers. It achieves those goals by publishing newsletters (the bi-monthly
ShopperTech Update
) and books (
The Essentials of Shopper Technology
, published in 2012,
New Directions in Shopper Technology
, published in 2013, and
The Little Book of Big Data,
published in 2016, and
Digital Disruption in CPG & Retail
, published in 2017), conducting research, hosting share groups, providing education through webinars and webcasts, connecting with the industry through social media channels such as LinkedIn and Facebook, and producing the LEAD Marketing Conference.
In sum, the Institute is a one-stop clearinghouse for trends and developments in shopper technology as well as a forum for thought leadership and an advocate for best practices.

For More Information, Contact us at...

CPGmatters

P.O. Box 470882

Cleveland, OH 44147-0882

phone: 440-582-1889



© 2018 LEAD Marketing Conference. All Rights Reserved.

Fall Virtual Conference

Wednesday, November 14, 2018

10:00 a.m. - 3:30 p.m. ET