The LEAD Marketing Conference:

The Collaborative Event

For Retailers & Manufacturers since 2009

The Only Collaborative Conference for Retailers and CPG Manufacturers Covering All Aspects of Loyalty, Engagement, Analytics & Digital Applications

Now a Virtual, Live Event that Allows 500 Industry Professionals to Attend without Spending Time Away from the Office or Incurring Travel Expenses

Testimonials from LEAD Attendees

"High quality and exceeded all my expectations."

"Great content, excellent insights."

"One of a handful of events worthy of [my] time."

"Have already recommended to others that they need to plan to attend."

"Very well done! GREAT content. Was impressed with the variety and the quality of presenters."

"Loved your last conference...You shared lots of great information and had knowledgable speakers. I look forward to your [next] conference."

"I enjoyed hearing how retailers are employing new technology that goes beyond the traditional retail management applications. The technology is very innovate and customer-focused."

"Exciting possibilities. Very engaging and very relevant … lots of tools to help and figure out how to leverage.  Thanks!"

"Food for thought on what we can do to improve … Can't wait to try these out for our team."

"Lots of relevant information!"

"Congratulations on a successful conference. Some of the speakers were quite exceptional."

"The content offered is unique and therefore of special value."

"Overall, this was a class event."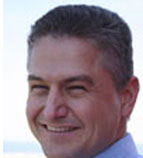 Plus top execs from Acosta, AOL, Barilla America, Best Buy, comScore, dunnhumby USA, Hillshire Brands, Sara Lee and more!

Bryan Pearson, President & CEO, LoyaltyOne, author, The Loyalty Leap: Turning Customer Information into Customer Intimacy

Michael Sansolo, Research Director,    Coca-Cola Retailing Research Council

Gary Hawkins, President, Hawkins Strategic & CART (Center for Advancing Retail Technology)

Steve Methvin,

Vice President, Retail Technology & E-Commerce, Bozzuto's


2012 Speakers included...

2012 Attendees included...

Ace Hardware, Ahold USA  Benjamin Moore ,Bi-Lo Supermarkets, Bozzuto's, Best Buy, Campbell Soup Company, Chanel, Colgate Palmolive, CVS,

Enjoy LIfe Foods, Frito Lay, General Mills, Giant Foods, Gladson, GS1 US, Hormel Foods, ItemMaster, Kelloggs, L'Oreal Paris, Lundberg Farms,

Key Food, Kraft Foods, Mars Pet Care, Meijer, Merz Pharmaceuticals, Nestle Purina, NetGrocer, Peapod, Pepsi-Cola,  Pfizer, Precima, Popcorn Indiana, Publications International, Rayovac, RetailWire, Rite Aid, Safeway, Sara Lee, SC Johnson, Sears, Smart Revenue, Solo Cup Company, SuperValu,

Turtle Wax, Unilever, V&V Supremo Food Products, Walgreens, Wrigley

Virtual Conference

May 14, 2014

10:00 a.m. - 5:30 p.m. EDT


Attendees At the 2014 Virtual Event...

Will participate in the live event from the comfort of their own office via streaming audio/visual

Will stay engaged via real-time, interactive instant polls, PowerPoint presentations, videos, and Speaker Q&A

Can attend the entire day-long conference or simply log into the sessions in which they are interested

Will receive post-conference links to all session recordings and supplemental materials for on-demand viewing


© 2014 LEAD Marketing Conference. All Rights Reserved.